Clergy Share Their HV50 Clergy Day Experience…
It will be hard to top this.
Excellent presentations! This is something I will bring back to my parish.
Thank you for organizing this wonderful event.
Overall, quite well-done. You should be proud of the conference! The price seems a fraction of the value I got from it!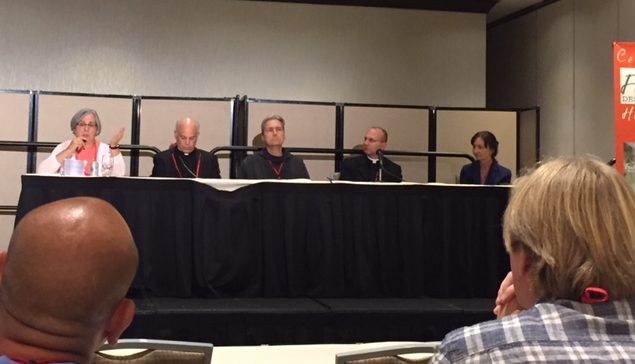 Very positive experience. All speakers clearly shared the ideas. I loved the sharing from the NFP couples. Real life experience is always very helpful.
It was great. Wonderful line up of speakers.
Very enlightening sessions.
Thanks CANFP – you hit it out of the park!
Clergy Report What They Will Do Differently as a Result of Attending the HV50 Clergy Day…
Deacon: Promote NFP in my Parish
Feel equipped to teach couples about HV
Deacon: Be more confident in sharing the wisdom of the Church.
Preach more frequently and with more conviction.
Continue on in ministry with renewed motivation, and some new ideas and verbalizations.
Oh. That's a challenge! I am so happy the talks will be online! I will share them with many people. I will listen to them again. I want to re-live so many of the moments of that action-packed weekend! And take in what I didn't have time to during the conference. And share with others the wonderful experience I had. The insights, the personalities, the networking, the exhibits, the momentum, the resources.
(Deacon, Following conference)  I included teachings of HV in my homilies and, with my wife, gave a 90-min. presentation to the teachers of our diocesan Catholic schools on HV/TOB and used the excitement of the conference to guide us in our presentation.
Try harder to work preaching on HV and chastity and Theology of the Body into my preaching.
Begin a new cycle of preaching on Humanae Vitae and working with theology of the body for the youth.
I will refer to National Week of NFP at spanish masses this weekend as I began even last Sunday before the Conference.
Deacon: Propose HV to the Pro-Life ministry. Work it into my homilies.
Deacon: Better prepared to preach on HV and do better marriage prep
Deacon: I'm an RCIA catechist and my approach will incorporate more HV facts and info.